Lonnie Schwartz is the victim of a deliberate campaign by the Obama Regime to intimidate Border Patrol Agents and other immigration law enforcement officials into backing off doing their job. The Obama Regime and the Cultural Marxists in the #LyingPress started a campaign in 2014 to augment the Obama Regime Administrative Amnesty by discouraging immigration arrests by public intimidation and
false accusations of excessive force
. [
Violence Against The Border Patrol: Whose Side Is Obama On?
, by
Federale
, VDare, June 27, 2017] The campaign was #FakeNews as all the shootings that were so controversial were all later declared justified two years later. [
News, Good And Bad, In The Obama Regime War On The Border Patrol
, by
Federale
,
Federale
Blog, July 30, 2016]
However, the Obama Regime decided to single out a Border Patrol Agent for punishment by process, Lonnie Schwartz. The Regime knew he was innocent, and allowed and encouraged the press to print lies about the shooting incident. The plan was to lie to the public and sacrifice a straight white male to the Mexican lynch mob. In this case, the alleged victim, Jose Antonio Elena Rodriguez, also known as The Rat, innocent teenager at 16, was just walking home from the store, much like the thug Trayvon Martin.
Not Jose Antonio Elena Rodriguez, But Similarly A Criminal
Elena Rodriguez's family claims that at the time of the shooting, the teen was simply walking to his home four blocks away. The ACLU has since filed a federal civil lawsuit on behalf of his family, arguing that the agent used excessive force when he opened fire.
"The Elena Rodriguez Family is grateful to the DOJ [Department of Justice] for this first step in the pursuit of justice, and remain steadfast in their resolve to seek full transparency from the U.S. Border Patrol on behalf of Jose Antonio," Luis Parra, the attorney representing Elena Rodriguez's mother, told the Associated Press.
[Border Patrol Agent Indicted In Fatal Shooting Of Mexican Teen, by Amanda Sakuma, MSNBC, September 24, 2015]
We now know that Araceli Rodriguez, Jose Elena Rodriguez' mother was lying. The whole story was contrived. Little Jose was a thug throwing rocks at Border Patrol Agents as part of an apparent drug smuggling attempt.
A Mexican teenager killed by a Border Patrol agent in Nogales five years ago was throwing rocks at agents before he was shot to death, prosecutors concede in recently filed court documents.
Documents filed by the U.S. Attorney's Office prosecuting Agent Lonnie Swartz for second-degree murder confirm for the first time that 16-year-old Jose Antonio Elena Rodriguez was throwing rocks from Nogales, Mexico, onto the Arizona side of the border before he was shot.
"The government will not dispute at trial, that (Elena Rodriguez) was one of apparently three individuals who, based on the video, were throwing rocks over the fence," the motion by the U.S. Attorney's Office states. "Likewise, the government will not dispute that this conduct was apparently an effort to assist the two subjects on top of the fence who were trying to successfully drop down onto the Mexican side of the border after smuggling two bundles of marijuana into the United States."
[Teen Killed By Border Patrol Agent Was Throwing Rocks Before His Death, Federal Prosecutors Concede, by Rob O'Dell, Arizona Republic, July 10, 2017]
So, despite years of claiming that there was no rock attacks on Schwartz, other Border Patrol Agents, and police officers at the scene of the drug smuggling attempt, the government now admits their lie: Schwartz and others were under attack with deadly force. Rocks can kill. And
they are a strategy by drug and alien smugglers to prevent arrests and seizures
.
Now that the lies spread by the U.S. Attorney's Office for the District of Arizona have been exposed, it is time for Attorney General Jefferson Sessions to order
Elizabeth Strange
, the Acting United States Attorney for the District of Arizona to drop the charges against Schwartz and end this travesty of justice. Stop Strange from becoming the latest
Angela Corey
, the harridan who persecuted George Zimmerman.
You can contact Strange
here
:
Two Renaissance Square 40 N. Central Avenue, Suite 1200
Phoenix, AZ 85004-4408
(602) 514-7500
This prosecution of Schwartz was a lie from the beginning and he was a sacrificial offering to the demons of diversity and illegal immigration, the two lodestars of the Democrat Party. Free Lonnie Schwartz!
And it is time to prosecute Rodriguez for lying about what Jose Rodriguez was doing during the smuggling attempt. She should be prosecuted for violation of
Title 18 United States Code, Section 1001, False Statements
.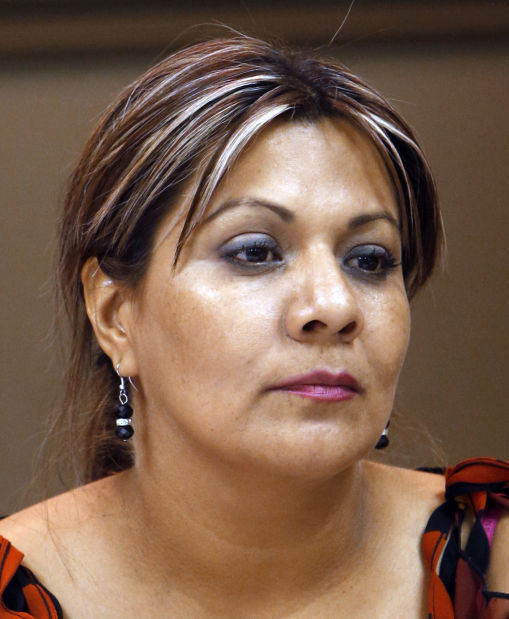 Liar Araceli Rodriguez
She should also have her visa revoked. And to no one's surprise the vile racist Mexican thugs who championed Jose Rodriquez' cause, claiming he was an innocent youth, are now saying his criminal and deadly attacks on Border Patrol Agents does not matter. They just play the race card, or
La Raza
card.
Legally speaking, this revelation is a big deal because the family and their lawyer had disputed that Elena Rodriguez was throwing rocks before he was shot in 2012. They shouldn't have done that. Already the family is facing an uphill legal battle to bring their son's killer to justice.
But there is no dispute now. A kid threw rocks and was gunned down by a good American soldier...
Does anyone really believe the agent's life was in danger by rocks being thrown from across the border that couldn't reach him?
Because we're talking about a Mexican being killed on Mexican soil. And we know that a Mexican life isn't worth much – not even our outrage, right?
[Díaz: Border Patrol Agent Murders A Kid, But Who Cares? He Was Mexican, by Elvia Diaz, Arizona Republic, July 10, 2017]
The vile Elvia Diaz can be reached here:
elvia.diaz@arizonarepublic.com
and at
(602) 444-8606
. She even denies that rocks can hurt anyone despite the evidence they do. Ask her if she will volunteer to be hit with a rock in the head. Clearly she won't.
We are in a war, Mexican revanchists like Diaz want white Americans killed and imprisoned for no reason other than they are white Americans.